Representative Ilhan Omar's Disappointing vote against recognizing the Armenian Genocide
"U.S. Representative Ilhan Omar, who has positioned herself as a critic of imperialism, an opponent of tyranny and a defender of the oppressed, has disappointed many by her recent stance on Turkey, the Kurds, and the Armenian genocide, said academic Djene Bajalan and journalist Michael Brooks in Jacobin magazine. On Tuesday, Omar was the only […]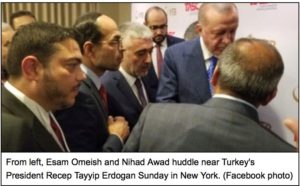 "U.S. Representative Ilhan Omar, who has positioned herself as a critic of imperialism, an opponent of tyranny and a defender of the oppressed, has disappointed many by her recent stance on Turkey, the Kurds, and the Armenian genocide, said academic Djene Bajalan and journalist Michael Brooks in Jacobin magazine.
On Tuesday, Omar was the only Democrat to vote against sanctioning Turkey over Ankara's military offensive against Kurdish-controlled territories in northern Syria and was one of the only members of the U.S. House of Representatives who refrained from voting to recognize the Armenian Genocide."
https://ahvalnews.com/…/congresswoman-ilhan-omars…#
This should serve as a wake up call for all those progressives who think that Ilhan Omar is a progressive and anti imperialist. She is not. The Armenian Genocide perpetrated by the Ottoman Turks and their Kurdish collaborators was one of the initial horrors of the 20th century along with the Congolese Genocide perpetrated by King Leopold of Belgium.
Omar's wishy-washy excuse of conflating her denial of the Armenian genocide does not fly as slavery and the genocidal treatment of Native Americans has been condemned.
The notion that Ilhan Omar represents the "progressive" wing of the Democrat party is a delusion. Ilhan and Rashida both parrot Neoconservative talking points on US intervention in Syria.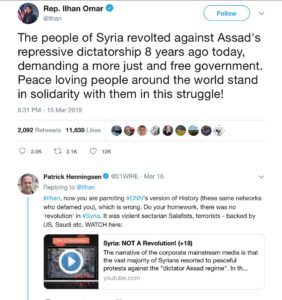 By doing so, Ilhan Omar along with Rashida Tliab publicly support and commemorate an Al Qaeda-dominated insurrection in Syria. They falsely term it a "Revolution" and a prominent Syrian activist has called them out on it.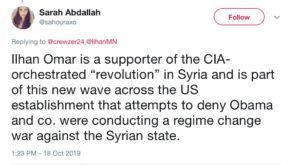 Destroying Syria by using Ikhwan and transnational Wahhabi-Salafi terrorists is a US-NATO-EU-GCC project that failed. Turkey was the staging ground for this failed intervention in Syria.
Ilhan's "stand" is simply a temporary spat between the Ikhwan and the Neocon lobby in the United States. The Neocons want to destroy Syria by misusing Kurds to capture Syria's oil resources while the Ikhwanis prefer Al Qaeda. While Syria and Russia have defeated Al Qaeda/FSA/Al Nusra in most parts of Syria, their threat remains in Idlib.
Ilhan and Rashida Tliab are feted by CAIR – a Salafi sectarian advocacy group that serves as a front for the Ikhwan aka the Muslim Brotherhood. The Ikhwan is the umbrella organization from which Al Qaeda emerged.
https://www.cair.com/full_video_cair_congressional…
CAIR and other similar advocacy groups also have a cozy relationship with Erdogan and have kept muted on the recent Turkish attacks on Syrian Kurds and Christians.
Tags