Aya Hachem's murder: UK foreign policy and structural Shiaphobia
Aya Hachem's murder raises troubling questions about UK foreign policy and blatant structural Shiaphobia preached by some clerics The causal anti-Shia Bigotry witnessed when fundraisers backed out of supporting Aya Hachem's does not exist in a vacuum. This intolerance and hatred against Shia Muslims are couched in noxious foreign policy and anti-Shia prejudice. England thought […]
Aya Hachem's murder raises troubling questions about UK foreign policy and blatant structural Shiaphobia preached by some clerics
The causal anti-Shia Bigotry witnessed when fundraisers backed out of supporting Aya Hachem's does not exist in a vacuum. This intolerance and hatred against Shia Muslims are couched in noxious foreign policy and anti-Shia prejudice.
England thought it could participate in the Neocon-lead destruction of multiple Middle Eastern and African countries without any blowback. They were obviously wrong.
Britain's atrocious foreign policy and dirty collaboration with Saudi Arabia have destroyed multiple countries like Iraq, Libya, Syria, and Yemen. This policy and collaboration relies on being in bed with the most rabidly sectarian proxies like Al Qaeda and ISIS.
This has now blown back in England in the form of multiple terrorist attacks and an increase in anti-Shia bigotry preached by the likes of Anjem Chaudhry.
London's virtue signaling Mayor, the ultra woke, neoliberal poster child Sadiq Khan has subtly promoted this form of vicious sectarianism. His selective posturing against Lebanese Shia Muslims and refusal to act against those waving ISIS flags has promoted prejudice and Shiaphobia in England.
Along with the horrible foreign policy, the subtle bigotry promoted by some clerics has also lead to an increase in prejudice against Shia Muslims.
Javed Ahmed Ghamdi is a popular preacher and "reformer" amongst educated and urbanized Pakistani and Expat Muslims. He presents himself as a soft-spoken reformer but subtly engages in the same vicious sectarian bigotry as Farhat Hashmi and Zakir Naik.
Nasibi sectarians like Javed Ghamdi and Wahhabi like Zakir Naik and Farhat Hashmi have played a major role in promoting intolerance and bigotry amongst Shia Muslims.
One example of this structural anti-Shia bigotry is the campaign against the invocation and reverence for Imam Ali Ibne Abi Talib. Along with the Holy Prophet (PBUH), Iman Ali (as) is the foundation for spirituality and knowledge in Islam. This is the shared faith of Shias, Sufis, and Sunnis.
However, the invocation and remembrance for Imam Ali (as) are bitterly opposed by Wahhabi sectarians and Nasibis like Zakir Naik, Farhat Hashmi, and Javed Ghamdi. Just a reverential mention of Imam Ali (as) is considered as a sin by these sectarians and Nasibis.
Those whose bigotry makes them speak out even against the remembrance and invocation of Imam Ali (as) play a direct role in the othering of Shia Muslims
Promoting structural anti-Shia hatred is intertwined with bad foreign policy. That is why brown-nosing types like Sachedina etc will engage in this because it is a lucrative business.
The failure of Shia Muslims to confront this structural Shiaphobia is reflected in their weak to nonexistent responses to previous such atrocities.
A Britisher was killed by her family for simply marrying another British man who was a Shia Muslim. Similarly, American and British Shia Muslims were brutally massacred in Pakistan some years ago. They were just retired professionals who were attending a majlis at their family home in Pakistan.
The British Muslim community failed to properly protest these crimes. The kind of casual bigotry against Aya Hachem is indicative of the inability of Shia Muslims to even confront the bigotry against innocent members is their faith community.
They can no longer pretend that such prejudice and hate are not possible against them in a Western country. This is a wake-up call.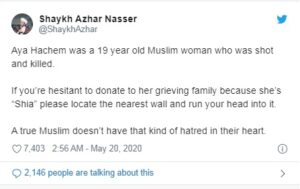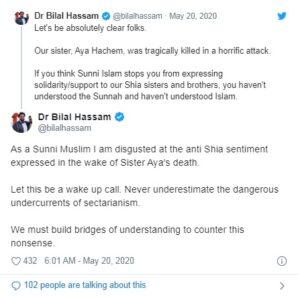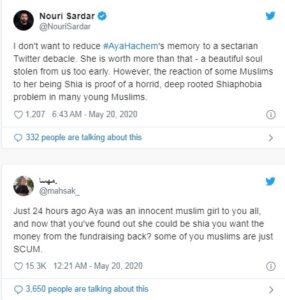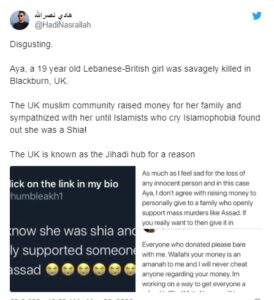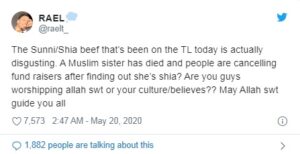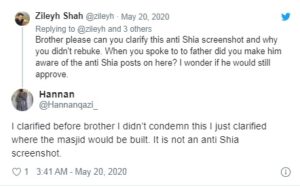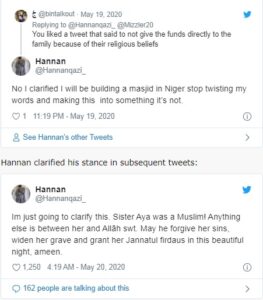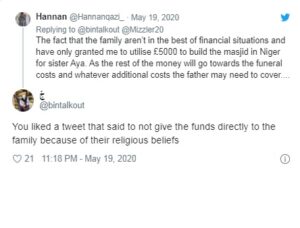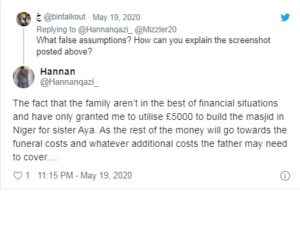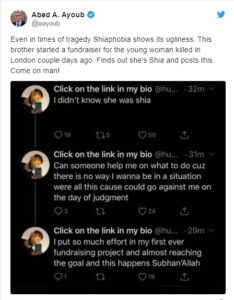 Even in times of tragedy Shiaphobia shows its ugliness. This brother started a fundraiser for the young woman killed in London couple days ago. Finds out she's Shia and posts this. Come on man! pic.twitter.com/CZ6dIzSp6S

What false assumptions? How can you explain the screenshot posted above?

— جُ (@bintalkout) May 19, 2020
The fact that the family aren't in the best of financial situations and have only granted me to utilise £5000 to build the masjid in Niger for sister Aya. As the rest of the money will go towards the funeral costs and whatever additional costs the father may need to cover….

— Hannan (@Hannanqazi_) May 19, 2020
The fact that the family aren't in the best of financial situations and have only granted me to utilise £5000 to build the masjid in Niger for sister Aya. As the rest of the money will go towards the funeral costs and whatever additional costs the father may need to cover….

— Hannan (@Hannanqazi_) May 19, 2020
Im just going to clarify this. Sister Aya was a Muslim! Anything else is between her and Allāh swt. May he forgive her sins, widen her grave and grant her Jannatul firdaus in this beautiful night, ameen.

— Hannan (@Hannanqazi_) May 19, 2020
Brother please can you clarify this anti Shia screenshot and why you didn't rebuke. When you spoke to to father did you make him aware of the anti Shia posts on here? I wonder if he would still approve.

— Zileyh Shah (@zileyh) May 19, 2020
The Sunni/Shia beef that's been on the TL today is actually disgusting. A Muslim sister has died and people are cancelling fund raisers after finding out she's shia? Are you guys worshipping allah swt or your culture/believes?? May Allah swt guide you all

— RAEL💭 (@raelt_) May 19, 2020
Disgusting.

Aya, a 19 year old Lebanese-British girl was savagely killed in Blackburn, UK.

The UK muslim community raised money for her family and sympathized with her until Islamists who cry Islamophobia found out she was a Shia!

The UK is known as the Jihadi hub for a reason pic.twitter.com/IscF4RrjqP

— هادي نصرالله (@HadiNasrallah) May 19, 2020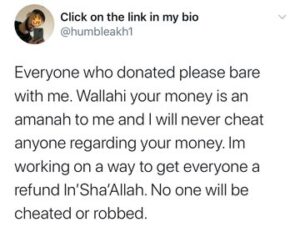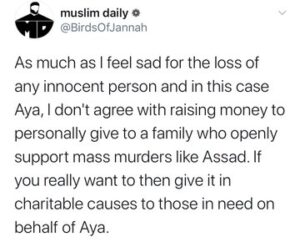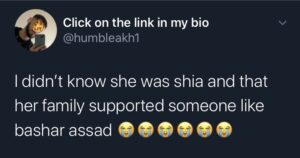 I don't want to reduce #AyaHachem's memory to a sectarian Twitter debacle. She is worth more than that – a beautiful soul stolen from us too early. However, the reaction of some Muslims to her being Shia is proof of a horrid, deep rooted Shiaphobia problem in many young Muslims.

— Nouri Sardar (@NouriSardar) May 20, 2020
Just 24 hours ago Aya was an innocent muslim girl to you all, and now that you've found out she could be shia you want the money from the fundraising back? some of you muslims are just SCUM.

— مهسا. (@mahsak_) May 19, 2020
Let's be absolutely clear folks.

Our sister, Aya Hachem, was tragically killed in a horrific attack.

If you think Sunni Islam stops you from expressing solidarity/support to our Shia sisters and brothers, you haven't understood the Sunnah and haven't understood Islam.

— Dr Bilal Hassam (@bilalhassam) May 20, 2020
Aya Hachem was a 19 year old Muslim woman who was shot and killed.

If you're hesitant to donate to her grieving family because she's "Shia" please locate the nearest wall and run your head into it.

A true Muslim doesn't have that kind of hatred in their heart.

— Shaykh Azhar Nasser (@ShaykhAzhar) May 19, 2020
Tags